CV
Antti Tikkanen
Antti Tikkanen is a versatile musician whose dynamic career spans solo, chamber as well as baroque performance. The wide range of repertoire from early baroque to contemporary music reflect the scope of his talent.
Antti was born in Oulainen, Finland and began to study the violin at the age of seven. His first teacher at the Jokilaakso Music Institute was Tomasz Orzech. From there on he studied in the Kuhmo Violin School with Professor Zinaida Gilels, at the Sibelius Academy with Lajos Garam, Mi-Kyung Lee and Kreeta-Maria Kentala and for a short period he also studied in the Lyon CNSM with Pavel Vernikov.
Antti Tikkanen has performed with numerous Finnish orchestras, including the Finnish Radio Symphony, Tapiola Sinfonietta and the Helsinki Philharmonic.
Tikkanen has performed extensively around the world's music festivals as a chamber musician, soloist or a member of an ensemble. Antti is also a member of the internationally well-known Finnish String Quartet Meta4.
Antti Tikkanen plays a Stradivarius violin "ex Berglund" kindly on loan from the Finnish Cultural Foundation.
Minna Pensola
Minna Pensola performes extensively as a chamber musician and soloist collaborating with conductors such as Sakari Oramo, Olari Elts, Eva Ollikainen and John Storgårds.
She is a founding member of the most internationally successful Finnish string quartet Meta4 which is the first prize winner of the Dimitri Shostakovich String Quartet Competition (Moscow 2004) and the Joseph Haydn Chamber Music Competition (Vienna 2007). Meta4 performs regularly in key music capitals and concert halls around the world. Minna Pensola is a co-founder of The Punavuori Chamber Music Society, and runs a club for classical music in her home town Helsinki since 2008. She teaches violin at the Sibelius Academy and has also acted as an artistic director of the Sysmä Summer Sounds Festival in Finland during years 2006-2012.

Pensola has studied at the Sibelius Academy, Musikhochschule Zürich and European Chamber Music Academy (ECMA) and enjoyed valuable guidance of Kaija Saarikettu, Ana Chumachenko, Hatto Beyrle and Josef Rissin.

Minna Pensola plays the Carlo Bergonzi violin (1732) kindly on loan from Signe ja Ane Gyllenberg Foundation. In her free time she looks and cleans after her two small daughters who's impeccable logic keeps her in constant marvelling.
Atte Kilpeläinen
Atte Kilpeläinen's music studies culminated in degrees from Cologne University of Music and Sibelius Academy.
Since 2005 he has held the position of principal viola in the Helsinki Philharmonic Orchestra. As a guest leader he has worked in orchestras like Chamber Orchestra of Europe, Swedish Radio Symphony Orchestra, Royal Philharmonic Orchestra Stockholm and Gewandhausorchester Leipzig.
As a soloist he has performed with Helsinki Philharmonic Orchestra, Tapiola Sinfonietta, Cologne Chamber Orchestra and City Orchestras of Kuopio and Oulu.
He has been a member of Meta4 string quartet since 2006. In 2007 Meta4 won 1st prize in International Joseph Haydn Competition in Vienna. Their three recordings for Hänssler Classics (Haydn op. 55, Shostakovich 3,4,7 and Bartok 1,5) have earned critical acclaim. Meta4 has also recorded music by Kaija Saariaho for Ondine and music by Jean Sibelius for Berliner Meisterschallplatten.
Since 2012 Atte Kilpeläinen has been a part of faculty in Sibelius Academy. He has also given master classes at Finnish summer festivals.
Tomas Djupsjöbacka
Tomas Djupsjöbacka started his musical training at the age of three in the Western Helsinki Music Institute. In 1997 he enrolled in the Sibelius Academy where he studied with Prof. Martti Rousi, Marko Ylönen, and Ralf Gothóni (chamber music). He also spent two years in Conservatoire de Lausanne studying with Patrick Demenga and received his Soloist Diploma with honors of the jury in 2003.
Since winning the second prize in the National Cello Competition held in Turku in 1998, Tomas Djupsjöbacka has performed as a soloist with orchestras in Finland as well as abroad. As a chamber musician Djupsjöbacka has performed at most of the Finnish music festivals.
Djupsjöbacka is a member of the string quartet Meta4, which has won international competitions in Moscow and Vienna and performs regularly in Europe and elsewhere. The ensemble is a quartet-in-residence at the Kuhmo Chamber Music Festival since 2009, was the artistic director of the Oulunsalo Music Festival 2008-2011 as well as the BBC Young Generation Artist in 2008-2010. Meta4 has released three albums with music by Haydn, Shostakovich and Kaija Saariaho, two of which have received international acclaim (e.g. Echo Prize 2010).

Djupsjöbacka is also a member of the Chamber Orchestra of Europe. He is currently studing conducting at the Sibelius Academy in Helsinki, where he also teaches chamber music. Djupjsöbacka's instrument is a rare Lorenzo Storioni cello made in 1780 in Cremona.
Discography
Kaija Saariaho: Chamber Works
for Strings Vol. 2

Label: Ondine
Composer: Kaija Saariaho
Bartók: String Quartets
No. 1 & 5

Label: Hänssler Classic
Composer: Béla Bartók
Sibelius: String Quartet in
D Minor Op. 56 'Voces Intimae'

Label: Berliner Meister Schallplatten
Composer: Jean Sibelius
Kaija Saariaho: Chamber Works
for Strings
Label: Ondine
Composer: Kaija Saariaho
Shostakovich: String Quartets
3, 4 & 7
Label: Hänssler Classic
Composer: Dmitri Shostakovich
FBC (YLE): the Record of the Year 2012
EMMA: the Classical Album of the Year 2012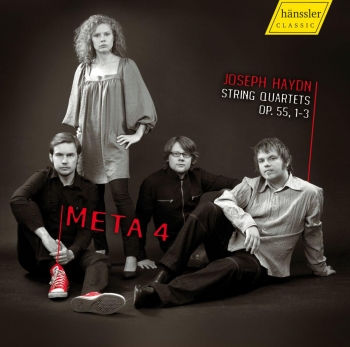 Haydn: String Quartets
Op 55, 1-3
Label: Hänssler Classic
Composer: Franz Joseph Haydn
Preis Der Deutschen Schallplattenkritik 2009
Echo Kritik Award 2010
Get your copy of the CDs here, the LP is available only at Fuga:
Reviews
Concerts
"META4, so viel steht auf jeden Fall fest, gehört zu den aufregendsten Kammermusikformationen, die die Klassik-Szene derzeit zu bieten hat." -(General Anzeiger, Bonn, 02/2015)
"Toisen osan aloittanut kvartetin soolo-osuus oli järkyttävän kaunista kuultavaa. Martinun energinen sävelkieli soljui Meta4:n muusikoista lähes telepaattisessa vuorovaikutuksessa. Yhteistyö orkesterin kanssa huipentui karnevalistisen kolmannen osan riehakkaaseen päätöskadenssiin." –Paavo Kässi (Keskisuomalainen, 10/2014)
"Meta4-kvartetin Antti Tikkanen, Minna Pensola, Atte Kilpeläinen ja Tomas Djupsjöbacka pääsivät näyttämään valtavan osaamisensa nopeutetuissa kuluissa ja jännittävässä rytmiikassa." –Veijo Murtomäki (Helsingin Sanomat, 3/2014)
"Dem Prinzip des Weitergehens, Weiterspinnens aus Motiven, ja, Motivpartikeln heraus, wie es Beethoven in Op. 127 ins nahezu Grenzenlose steigert, um diese bis ins Filigrane reichende Verflechtungsphantasie immerwiederheftig, rustikal, fast ordinár in Tanzrhythmen zu erden, folgten die Meta4 mit derneugierigen Frische ihrer so virtuosen Elastizitát wie geistigen Beweglichkeit – ein überraschend anderer Beethoven-Eindruck, als mancher erwartei haben mochte." –Harald Eggebrecht (Süddeutsche Zeitung, 1/2014)
"Bei Meta4, -- wurde Beethovens letztes Quartett Nr. 16 in F-Dur zu einem solchen Höhepunkt. Klar und von einer dramatisch geprägten Heiterkeit, tiefschürfend und so prägnant." –Dirk Becker (Potsdamer Neueste Nachricht, 11/2013)
"Bartókin viides jousikvartetto sai Meta4:lta esityksen, jonka veroista ei ihan äkkiä tule mieleen. Villillä tarmolla eteenpäin rynnivän teoksen kanssa on totisesti syytä pitää pää kylmänä. Antti Tikkasen ensiviulun paikalta johdattama yhtye selvitti kontrapunktin karikot hämmästyttävällä puhtaudella, menettämättä silti tunteen paloa." –Lauri Mäntysaari (Turun Sanomat, 8/2013)
"Während Meta4 den zweiten Satz aus der Unhörbarkeit heraushebt, berstende Spannung erzeugt und ihn wieder ins Pianissimo zurücksinken lässt, präsentiert sich das Scherzo als Jahrmarkt der Eitelkeiten, mit karikaturenhaft solistisch agierenden Instrumenten. Wie auch in den beiden folgenden Sätzen zeigt sich Meta4, bunt, neugierig, im besten Sinne unberechenbar und mit unbändiger Spielfreude." (Donau Kurier, 7/2013)
"Meta4 gave an instinctive performance that spoke of the work's intimacy, and did well to keep the fluidity of the piece fully intact. The four musicians performed in close proximity, the cello the only member seated, and the passing of each melodic phrase from one instrument to the other was smooth but not over-polished." –Ben Hogwood (Classical Source, concert at Wigmore Hall, 3/2012)
"Rarely can the Town Hall have witnessed such transcendental string sounds, such compelling musicianship, such intimacy and such total involvement in art of musical interpretation." –Brian Paynes (The Westmorland Gazette, 3/2012)
"Die Ensemblemitglieder sind ausgprägte Individualisten mit ungewöhnlich präzisem Klangbewusstsein und ebenso rhetorisch-virtuoser Energie." –Klaus Ross (Rhein-Neckar-Zeitung, 3/2011)
"Der dichte Spannungsbogen des Konzerts kulminierte in Sibelius' Quartet Voces Intimae, dessen Kontrastreichtum die vier vorzüglichen Streicher mit einer breiten Farbpalette ausloteten." (Hamburger Abendblatt, 2/2011)
"Tatsächlich sind die vier Musiker, nämlich Minna Pensola (Violine), Antti Tikkanen Violine), Atte Kilpeläinen (Viola) und Tomas Djupsdjöbacka (Violoncello), zu einem Streichquartett verschmolzen, welches sich durch solistisch gleichwertige Besetzung der vier Pulte, durch lupenreine Intonation und durch Klanghomogenität auszeichnet, ganz zu schweigen von dem hohen Gestaltungstemperament, welches manchmals bis in freilich beherrschten Furor vordringt." –Claus Regnault (Süddeutsche Zeitung, 11/2009)
"Noch einen Schritt weiter Richtung explodierende Expressivität: Smetanas e-Moll-Streichquartett, plastisch, glutvoll und leidenschaftlich vorgetragen, wurde zu einem erschütternden Lebensbericht." –Franz Zamazal (Oberösterreichische Nachrichten, 7/2008)
"-- la calidad, precisión, sonoridad y musicalidad del conjunto es realmente admirable. -- realmente hicieron una demostración de competencia y dominio como pocas veces se pueden apreciar." –Juan Krakenberger (Mundoclasico, concert in Madrid, 1/2008)
"Aquí, los Meta4 lucieron una sonoridad más compacta y, aunque suene contradictorio, menos ácida, logrando una interpretación de muchísimos quilates que tuvo momentos mágicos y que logró incluso unos segundos de reflexión entre el público al final de la obra, antes de comenzar a aplaudir." –Juan Carlos Galtier (Heraldo de Aragón, concert in Zaragoza, 1/2008)
"Despite the title (Voces Intimae), the piece strives to be a full-scale symphony, and in this wonderful performance the music's epic scale emerged with unforced strength and grandeur. –Ivan Hewett (Telegraph, concert at Wigmore Hall, 9/2007)
"This was a performance of real quality, a reading of depth and intensity in which the music was able to speak directly to us wihtout eccentricities. This Quartet certainly deserves an international career, which I am sure they are capable of fulfilling." –Robert Matthwe-Walker (Musical Opinion, 12/2006)
Albums
"Last but not least, Nymphéa (1987), veinte minutos de puro goce perceptivo, transfigura el concepto del cuarteto de cuerda al asociarlo con el aura electrónica de manera, tout court, portentosa, el oído en vilo y siempre satisfecho: Saariaho en estado puro." –Germán Gan Quesada (El arte de la fuga, 5/2014)
"L'interprétation intense du Quatuor Meta4, tour à tour grave et avenante, est un modèle de musicalité pure, en tout cas jamais relâchée, presque toujours sur le qui-vive. Leur sonorité, très claire et sans sécheresse, sert à merveille ces « voix intimes » du compositeur. L'engagement des interprètes permet d'entrevoir un Sibelius au plus haut sommet de son art. Une générosité qui touche au sublime. La plus belle des versions modernes." –Philippe Demeure (Analog Collector, 12/2013)
"Medlemmarna i den erkända Meta4-kvartetten får i tur och ordning träda fram i rampljuset, med njutbart resultat. -- Saariahos verk kommer inte alltid till sin fulla rätt om man lyssnar på flera efter varandra, men skivans struktur känns synnerligen lyckad. Som helhetens höjdpunkt sluter sig de individuella stråkrösterna samman i stråkkvartetten Nymphéa. -- Elektroniken utvidgar stråkkvartettens möjligheter till otroliga dimensioner. Nymphéa är som en djup och mörk källa, vars yta återspeglar ett rikt spektrum av valörer." –Anna Pulkkis (HBL, 10/2013)
"It's hard to imagine more passionate, committed or meticulously crafted accounts of Finnish composer Kaija Saariaho's exquisitely strange chamber music for strings than these glowing performances by her compatriots in the Meta4 quartet. -- Second violinist Minna Pensola, for example, brings a remarkable range of colours to the microtonal waverings and keening glissandos of the opening Tocar, and she delivers a movingly intimate account of the hushed Nocturne, written in memory of Lutoslawski. First violinist Antti Tikkanen is more fiery in the sonata-like Calices, but there's a glassy purity to her sound, especially in the half-heard tones of the fragile slow movement. Violist Atte Kilpeläinen copes with the technical demands of the eerie Vent nocturne magnificently, and cellist Tomas Djupsjöbacka brings a thrilling spontaneity to the volatile moods of Spins and Spells. The disc's high point, though, is the concluding Nymphéa, whose icy poetry the Meta4 players deliver in an astonishingly broad palette of sounds." –David Kettle (The Strad, 10/2013)
"The playing of Meta4 is superb. Their technique is astute, intense. Yet they are almost relaxed in the way they offer space for the at times complex and concentrated music to evolve and explain itself." –Mark Sealey (Classical Net, 2013)
"Meta4-kvartetti tekee Haydn- ja Shostakovitsh-levyillään historiaa. Koskaan ennen suomalainen jousikvartetti ei ole saanut yhtä paljon kansainvälistä huomiota klassisessa ohjelmistossa." –Harri Kuusisaari (Rondo, 12/2012)
"Die vier Musiker des Quartetts Meta4 werfen sich mit voller Energie in die Musik und spielen, was die Instrumente herhalten." –Steff (Pizzicato, 10/2012)
"Die vier Finnen spielen auf unbeirrt hohem Niveau, perfekt im Zusammenspiel, sicher auch in rhytmisch vertrackten Situationen und flexibel in den Ausdrucksformen, zwischen geheimnisvoll und schroff-direkt." –Christoph Vratz (Rheinische Post, 7/2012)
"Unlike most of their peers, Meta4 have found their way to the particular world of musicality that Shostakovich inhabits -- I'm not sure I've ever heard the opening folk-like Allegretto of No 4 more subtly explored, and this is cunningly balanced by the strategical placing of nuance in the finale's klezmer?ish passages." –David Fanning (Gramophone, 2012)
"--Meta4 soittaa Shostakovitshin kvartettoja poikkeuksellisen hyvin. Levyllä kuuluu yllin kyllin yleistä musikaalisuutta ja yksilötaitoa, mutta olennaisinta on, että Meta4 on ymmärtänyt kvartettityön tärkeimmän piirteen ja tehnyt sen eteen rajusti työtä." –Kare Eskola (YLE, 8/2012)
"No recuerdo ninguna interpretación tan impresionante de esta enigmatica, breve y novedosa partitura que Shostakovich dedicó a modo de Tombeau a su primera esposa. La misma receta llena de crudeza y perfección la aplican también a las otras do obras" –Pablo-L. Rodríguez (Diverdi, 10/2012)
"En muista kuulleeni parempaa Dmitri Šostakovitšin jousikvartettolevyä. Meta4 löytää ahdistetusta ja katkerasta musiikista hätkähdyttävän paljon värejä, kielletystä kauneudesta luuhun poraavaan traagisuuteen." –Jukka Isopuro (Helsingin Sanomat, 7/2012)
"Durch reich nuancierte Farbwechsel und agogische Feinheiten, vor allem aber durch die griffige Artikulation bekommt die Aufnahme eine sprachhafte Qualität – nicht zuletzt im Quartett op. 55, 2 mit seinem ungewöhnlichen Beginn. Hier wird Haydns Musik packend und abwechslungsreich erzählt: spannend wie ein gutter Krimi." –M.S. (Fono-Forum 07/2009)
Yhteys
General management:

Karsten Witt Musik Management GmbH
Maike Charlotte Fuchs
Tel. +49 30 214 594 220
Fax +49 30 214 594 101
mf(at)karstenwitt.com
Leuschnerdamm 13
D-10999 Berlin
Germany
www.karstenwitt.com
For bookings in Finland please contact:

Sublime Music Agency
Tiina Vihtkari
Tel. +358 50 594 2430
tiina.vihtkari(at)sublime.fi
Kauppalantie 30 A 8
00320 Helsinki
Finland
www.sublime.fi
For bookings in Spain please contact:
La Máscara De Orfeo
Paloma Viana
Tel & Fax +34 91 593 48 23
pviana(at)lamascaradeorfeo.com

Olid, 3 - 5º izq.
28010 Madrid (Spain)
www.lamascaradeorfeo.com
For bookings in Italy please contact:
Leonardo Finotti
Segretariato Artistico
dell'Associazione Polesine Musica
Tel. +39-347-521 64 90

info(at)leonardofinotti.it
Via A. Rossi 7
45026 Lendinara, Rovigo, Italy
For bookings in North America please contact:

Scott Mello
Manager, Artists & Attractions
Tel. (+1) 212.584.7530
smello@opus3artists.com